Here a solution for dorms and other small spaces, Eastcool 6-foot fridge is the perfect compact refrigeration
1946-4D freezer has an efficient design with a hidden handle. It can provide ample storage capacity without taking up too much room.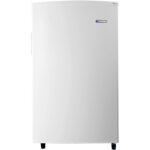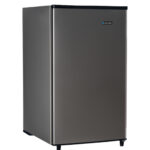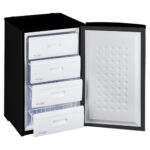 It has four drawers that will offer convenient organization and easy access to your food and beverages. This fridge is specifically designed to meet the needs of dorms and other similar settings where space is limited. Its compact size allows it to fit seamlessly into any corner or tight spot. The freezer is energy-efficient and has refrigerant gas R600 which is helping you reducing your environmental impact. The sleek and modern design adds a touch of style to any space. With its reliable performance and compact size, our 6-foot fridge with four drawers is an ideal choice to where the space is limited.
| Specification | |
| --- | --- |
| Energy grade | C |
| Refrigerant gas | R600a |
| Climate class | Natural |
| Consumer rate | 330 kWh |
| Total volume | 90 Ltr |
| Net dimention | 535 × 555 × 910 cm |
| Net weight | 28.6 Kg |
| Input power | AC 220V |
| Material | Carbon steel |
| Compressor type | Universal |