A very practical option for having one the most healthy weather aroun you:
introducing our versatile air purifier, suitable for office, commercial, home use and any where. A very usuable component specially in hospitals.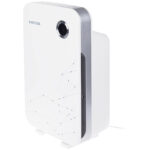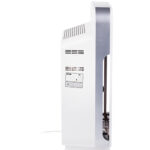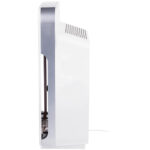 The TW209 unique device covers a space of 55 square meters, ensuring clean and fresh air in medium-sized rooms. It is equipped with four replaceable air and carbon filters, providing comprehensive filtration for optimal air purification. With its whisper-quiet operation, it won't disrupt your activities or disturb your sleep. The air purifier excels at absorbing odors and harmful gases, while also destroying harmful bacteria and allergens, creating a healthier environment. Additionally, it ionizes the air, producing a refreshing mountain air-like atmosphere. The four-stage filtration process includes a HEPA filter and a powerful carbon filter, removing even the tiniest particles and effectively reducing airborne pollutants. With an impressive air purification capacity (CADR) of 209 cubic meters per hour, it ensures quick and efficient air cleaning. The compact dimensions of 48 x 16 x 35 cm allow for easy placement in various spaces. Despite its powerful performance, the air purifier weighs just 6 kg, making it portable and convenient to move around as needed. Improve the air quality in your surroundings with our reliable air purifier, featuring four replaceable filters, quiet operation, exceptional filtration, suitable coverage, and compact dimensions. Enjoy cleaner, fresher air and a healthier living or working environment.
| Specification | |
| --- | --- |
| Net dimention | 35 × 16 × 48 cm |
| Net weight | 5.2 Kg |
| Floor area | 55 m³ |
| Cool steam | No |
| Filters | Pre-Filter | Heppa H13 | Active Carbon |
| Function | Automatic (Low to High) |
| Kid lock | No |
| Air ionization | Yes |
| Air quality indicator | Yes |
| Filter replacement indicator | Yes |
| Clean air delivery rate | 209 m³/h |