5 ft. Showcase Refrigerator
Eastcool 19580 Showcase is an ideal choice for supermarkets, convenience stores, restaurants and other retail settings where products need to be displayed in an attractive and accessible manner, So have a commercial refrigerator for display purposes with Eastcool showcase.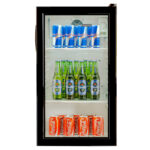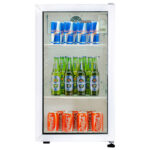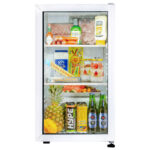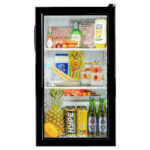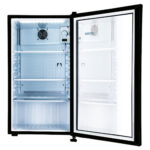 These showcases are often used to store and display chilled food and drinks, such as sandwiches, salads, beverages, and desserts. These fridges are designed to be visually appealing, with glass doors and interior LED lighting that showcase the products inside. They are equipped with temperature control features that maintain a consistent and safe temperature for food and drinks. Eastcool showcases are built with durable materials and designed to be easy clean and maintain. They're also has optimal energy consumption and a minimal noise fan. This model come with adjustable option such as 3 shelves and compartments that can be configured to suit the needs of the business. its also has an adjustable base. These products are an essential piece of equipment for any retail business that sells chilled food and drinks, as they provide an efficient and attractive way to store and display products. With a showcase fridge, businesses can attract more customers and increase sales by showcasing their products in an appealing and convenient way.
| Specification | |
| --- | --- |
| Energy grade | C |
| Refrigerant gas | R600a |
| Climate class | Natural |
| Consumer rate | 248 kWh |
| Total volume | 97 Ltr |
| Net dimention | 445 × 520 × 800 cm |
| Net weight | 27 Kg |
| Input power | AC 220V |
| Material | Carbon steel |
| Compressor type | Universal |