Introducing the Innovative Desktop Water Dispenser: The Perfect Choice for Offices, Commercial Spaces, and Hospitals
We are delighted to present our latest creation, an exceptional desktop water dispenser in a striking white-orange color that redefines convenience and purification. Tailor-made for office, commercial, and hospital use, this water dispenser stands out as a premium choice for those seeking superior water quality and energy efficiency.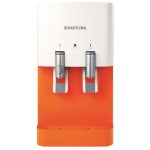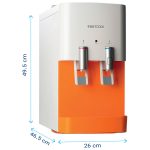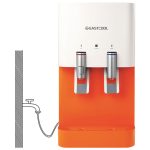 City Water Connection with 4 Filters: Designed to provide the purest and freshest water, our water dispenser can be easily connected to city water. Equipped with four cutting-edge filters, this device ensures the removal of impurities, guaranteeing a refreshing hydration experience. Korean-Made Body and Filters: Quality is at the heart of our design, and we take pride in manufacturing both the body parts and filters in Korea. Crafted with high-strength materials, this water dispenser promises durability and longevity, making it an ideal investment for various environments. Four Water Purification Filters: Experience the pinnacle of water purification with our four filters, each serving a unique function to ensure the highest water quality. Enjoy the benefits of safe, clean, and great-tasting water with every dispense. Sensor for Energy Consumption Reduction: At the forefront of innovation, our water dispenser is equipped with an intelligent sensor that reduces energy consumption during nighttime hours. This feature not only promotes sustainability but also contributes to cost savings, making it a thoughtful choice for eco-conscious organizations. Child Lock for Hot Water: Ensuring the safety of our little ones is paramount, and our water dispenser includes a child lock feature for hot water. Temperature Control Security System: Rest assured of a consistent and safe water temperature with our temperature control security system. This advanced feature guarantees that the water is dispensed at optimal temperatures, offering an enjoyable and comfortable drinking experience. LED Display for Hot and Cold Water: Embrace the modernity of our water dispenser with its LED display, showcasing the temperature options for hot and cold water.
| Specification | |
| --- | --- |
| Refrigerant gas | R134a |
| Climate class | Natural |
| Net dimention | 26 × 46.5 × 49.5 cm |
| Net weight | 16.6 Kg |
| Input power | AC 220V |
| Material | Carbon steel |
| Compressor type | Universal |
| Type | Desktop |
| Installation type | Bottle less |
| Heating power | 432 W |
| Cooling power | 111 W |