This is the SW441R Eastcool water dispenser, one of our special product which is the perfect solution for providing hydration in various settings.
This can be easily connected to the urban water supply, ensuring a continuous and convenient water source. With its compact and slim design, it fits seamlessly into any space, even in areas with limited width.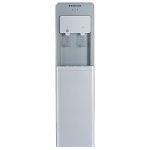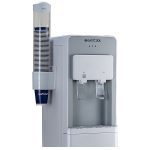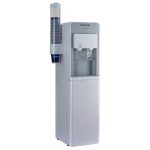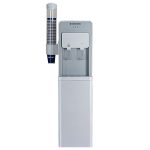 One of the nifty appliance of this water dispenser is a locked hot water faucet, providing added safety and preventing accidental burns. This is particularly useful in environments where there are children or safety regulations to consider. The dispenser offers both cold and hot water options, catering to different beverage preferences throughout the day. With a user-friendly interface, it allows for easy temperature adjustment and operation. The dispenser is equipped with a reliable filtration system, ensuring clean and purified water for a refreshing taste. Its sturdy construction guarantees durability, with high-quality materials that withstand the demands of daily use. The dispenser's sleek and modern appearance adds a touch of elegance to any setting, from offices to public areas. Experience the convenience and safety of our water dispenser, designed to be connected to urban water, featuring a locked hot water faucet, and boasting a slim width for space optimization.
| Specification | |
| --- | --- |
| Refrigerant gas | R134a |
| Climate class | Natural |
| Net dimention | 26 × 32 × 100 cm |
| Net weight | 12.1 Kg |
| Input power | AC 220V |
| Material | Carbon steel |
| Compressor type | Universal |
| Type | Stand |
| Installation type | Bottle less |
| Heating power | 420 W |
| Cooling power | 80 W |