Bottle Less Water Dispenser With Water Filter
Introducing our exceptional device, perfect for office, commercial, and hospital use.
The remarkable SW415UF water dispenser of Eastcool has equipped with four water filters which has ensuring the highest standards of water quality and safety.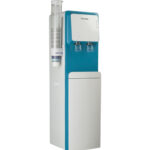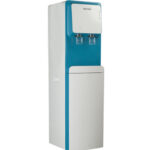 This water dispenser designed to be connected to city water and has a hot water protection lock that can bring safety. This device is an ideal choice for luxury clinics and offices, providing a reliable and premium water solution. Crafted with high strength materials, it guarantees durability and long-lasting performance. Its advanced design ensures minimal noise output, creating a peaceful and serene environment. Moreover, its low power consumption contributes to energy efficiency and cost savings. With four water filters, each serving a specific function, this device delivers outstanding filtration and purification capabilities. Enjoy clean, fresh, and contaminant-free water, ensuring optimal health and well-being. Safety is paramount, and this device features a child lock and a temperature control security system. You can have peace of mind, knowing that the water is not only clean but also at the perfect temperature. Equipped with a leak-proof valve, this device ensures a hassle-free and mess-free experience. It offers the option to install a magnet (accessory), further enhancing the water's properties. The LED display showcases the temperature of the hot and cold water, allowing for easy monitoring and adjustment. It adds a touch of sophistication and convenience to the overall user experience. Choose our unique device for your office, commercial space, or hospital, and elevate your water consumption to new heights. Experience the unbeatable combination of functionality, reliability, and advanced features that set this device apart from the rest.
| Specification | |
| --- | --- |
| Refrigerant gas | R134a |
| Climate class | Natural |
| Net dimention | 30 × 39 × 111 cm |
| Net weight | 17.3 Kg |
| Input power | AC 220V |
| Material | Carbon steel |
| Compressor type | Universal |
| Type | Stand |
| Installation type | Bottle less |
| Heating power | 480 W |
| Cooling power | 100 W |